Last night, like millions of others, I watched the 'Golden Globes.' I had a great time seeing the red carpet introductions and the comments… and knowing me, also the fashion.
During the show, the winners, at times, made me shake my head. I saw quite a few of the nominated movies and the involved actors and couldn't understand some choices. – Just one example:
Best Performance by an Actress in a Limited Series or Motion Picture Made for Television
Kaitlyn Dever ("Unbelievable")
Joey King ("The Act")
Helen Mirren ("Catherine the Great")
Merritt Wever ("Unbelievable")
Michelle Williams ("Fosse/Verdon") – WINNER
They had Helen Mirren nominated in 'Catherine the Great' – and they made Michelle Williams the winner? I'm sorry, I cannot understand that.
Also, they pronounced 'Missing Link the Best Animated Film! Are you kidding me?? They had nominated Frozen 2, Toy Story 4, and The Lion King!! Every single one of them far better than the winner…
The complete winner list can be seen here:
https://www.goldenglobes.com/winners-nominees
I admit I'm not an expert, that is just my personal taste. I suggest you decide for yourself on the winners.
*****************************
I figured, I would concentrate on the ladies fashion (with one exception, maybe), since I 'grew up' in Ladies' Fashion, learning everything, every single step from the design to the sales, I helped to dress models and organized Fashion Shows… that is something I know about. (I might not be a fully-fledged expert, but definitely a mini-expert with a good taste.)
Let's pick some of the most impressive dresses and their wearers and have a closer look at them:
Trend: elegant, red evening gowns with an abstract 'extra,' like a 'twist,' a waterfall, a drapery or a train that pronounces the simplicity of the dress but shows the great taste of the wearer.
Another beautiful dress, worn by an extraordinary actress was Helen Mirren in Dior:
---
A different trend at this year's Golden Globe red carpet was oversized sleeves, which in my opinion, were not very flattering. Olivia Coleman's balloon-like puff sleeves added some weight to her attractive appearance.
Jodie Comer nearly disappeared in the monstrous green fabric, which, in my opinion, is quite a pity since she usually has a far better taste. She is so pretty, why hiding her in that green tent?
As for Beyonce's dress: I think it is a quite tasteless construct with no decent form. The over-dimensional golden sleeves, to the same time, build the top, and can barely keep her cleavage at bay. Sometimes, less is more, Mrs. Carter.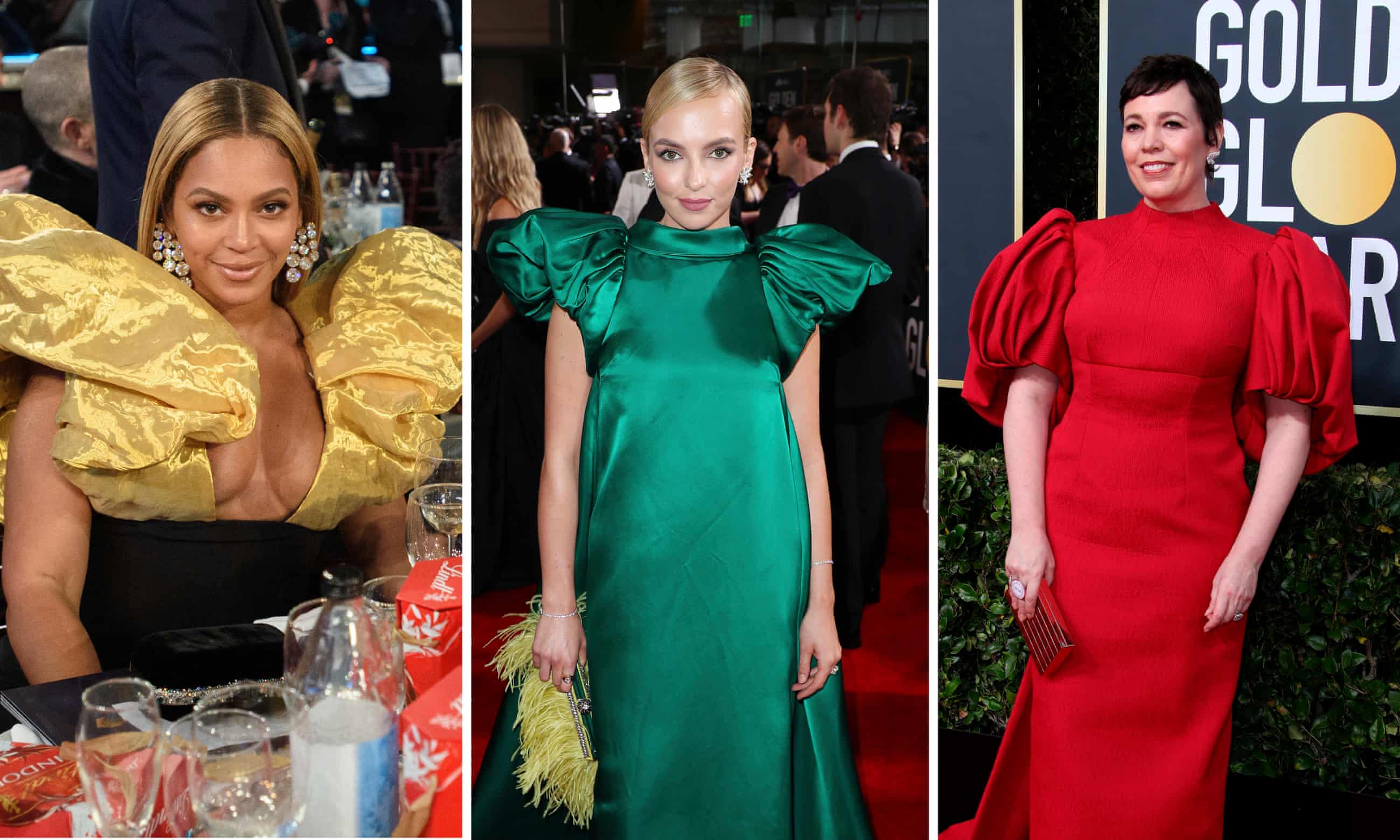 ---
Absolutely stunning:
Michelle Pfeiffer                                                     Rachel Weisz
Ana De Armas                      Renee Zellweger                           Reese Witherspoon
Jennifer Aniston                 Glenn Close                                      Akwafina
Gillian Andersson                 Dakota Fanning                             Natalie Morales
I don't think I need to explain why I find these ladies' impeccable taste and wonderful choice of dresses simply a feast for the eyes.
---
Not sure? My opinion:
Joey King hasn't exactly hit the 'jackpot' with this Iris Van Helpen dress. I don't think it's an evening gown, predestined to be shown on the red carpet of one of the most important award events in Hollywood. (Besides, the iridescent pattern on the black and white dress is irritating my eyes.)
I read many scornful, malicious, and rogue comments about Cate Blanchett's light yellow/silver dress with the unusual wing-sleeves. I cannot find anything bad about the design of this dress, and it fits Cate Blanchett's slim body and fair skin perfectly well. To me, she looks as ethereal as a fairy princess. Stunning, in my opinion.
Billy Porter, in his white tux in combination with the bright white feathery train (which, in my opinion, isn't even right for the wedding of a pair of crop pigeons), looks like the personified bird-flu, as I find. It's just too much. This isn't a 'statement'… it's a demonstration of a poor taste.
Rooney Mara, in her black lace dress, might look a little bit on the 'goth'-side, but I can't help myself: on her, this frock looks perfect. Since the lace is making the black dress quite vivid, she made a great decision by wearing her jewels in her hair. The only thing that's missing is a smile.
Salma Hayek was another actress whose red carpet look got quite a few horrible comments.  I personally think, compared to other dresses I saw her wearing, she did quite well with her Bombshell Gucci dress. The white and blue looks good on her, and even though the plunging top turned heads, the top fabric was still strong enough to hold everything where it belonged and present it nicely. Others might not share my opinion, but I think she looks awesome!
I'll make this one short. Many seem to think Lucy Boynton looks stunning in this silver dress. I think she looks like she's wrapped in aluminum foil and corded up on the neck like a trash bag. Sorry, not my taste.
Zoe Kravitz's two-pattern polka dot dress got quite different comments. From 'boring' to 'doesn't fit,' 'looks bad', 'bad taste' up to 'should have stayed home' almost anything could be read – a few of the comments I read were carefully neutral, like 'did her best'… I don't know why the bad comments. Yes, it might not be the most elegant, the most head-turning, or even the sexiest dress of the event – but I think she looks simply cute! Well done, Zoe.
Beautiful Margot Robbie earned wonderful reviews and compliments for her Chanel frock with the metallic top and the white bottom. Even though it is a 'safe side' evening gown, I'm afraid with me it triggers an unsuppressible yawning reflex. She can do so much better.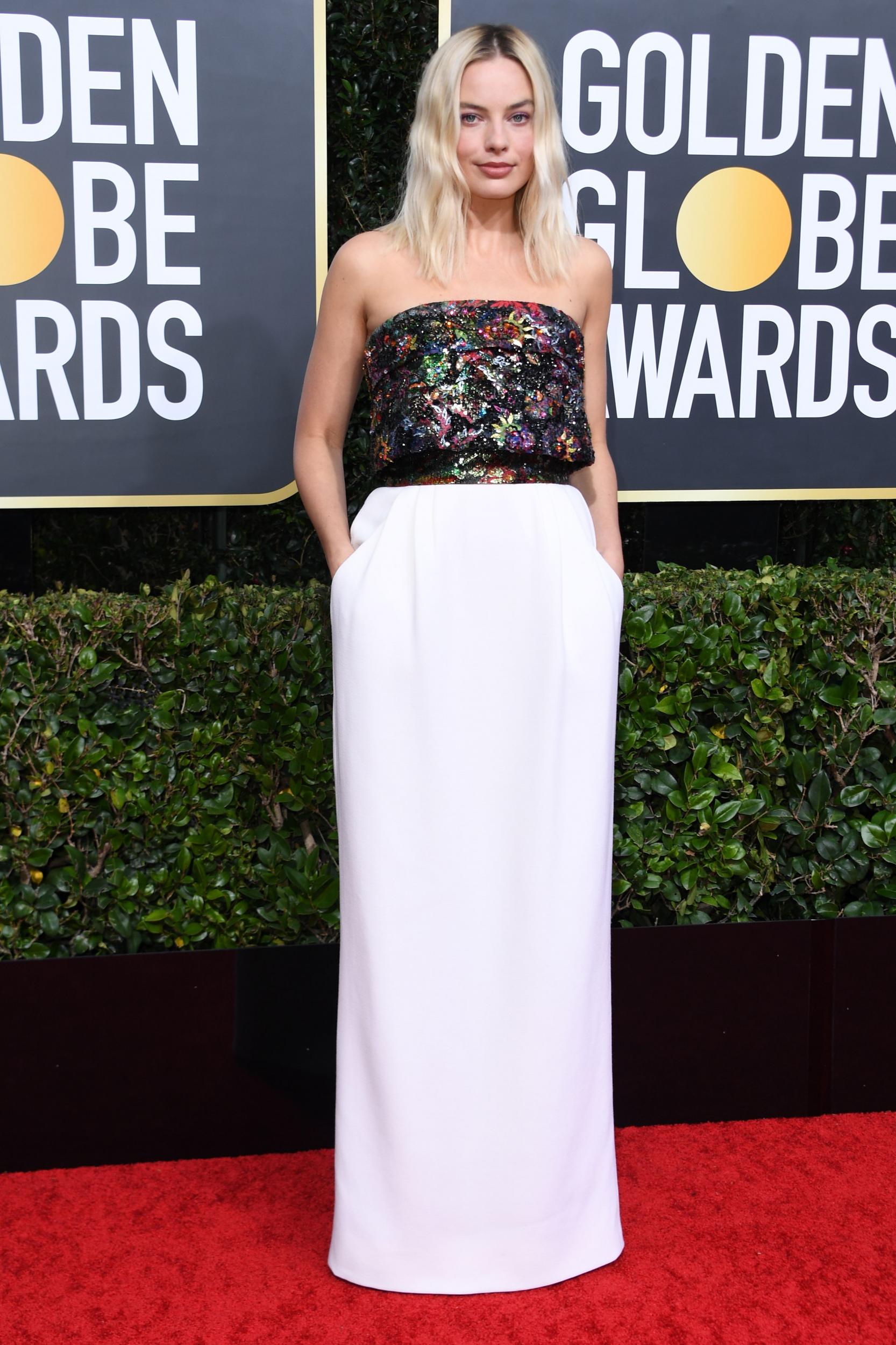 Michelle Williams is a wonderful lady and quite a good actress. To see her in this orange dress is a bit sad to me. That gown looks like it accidentally slipped to the side, revealing some blue undergarment that doesn't belong there. This gown here is, once again, an excellent example that shows Luis Vuitton should stay with designing travel baggage instead of Ladie's evening gowns. It didn't do Michelle Williams any good.
A 'different' kind of couple at the award was Jason Momoa and wife Lisa Bonet. I heard bad comments about Lisa Bonet, while, of course, Jason Momoa is and was the ladies' favorite. I'm not sure what people are talking about. Lisa Bonet was never a candidate for conventional fashion, and I wouldn't expect her to be one now. With her simple, floral Fendi couture dress in beige, and Jason Momoa's combination of Ford and Valentino, carried over a black t-shirt, they both make a well dressed beautiful couple, known for their individual style.
I read many negative and positive comments about beautiful Charlize Theron's dress choice for the Golden Globes this year. From 'stunning' to 'breathtaking' to 'unfinished' nearly everything could be read. I think the cut of her black and green Dior dress is almost impeccable, sexy, and flatters her slim frame. Would it be cream or apricot-colored, it could have been the perfect gown for her. But I think that particular green makes her look like a bottle of poison.
---
No-No – My opinion:
In this overblown and feathery pink monstrosity beautiful, Sofia Carson looks like exploded cotton candy.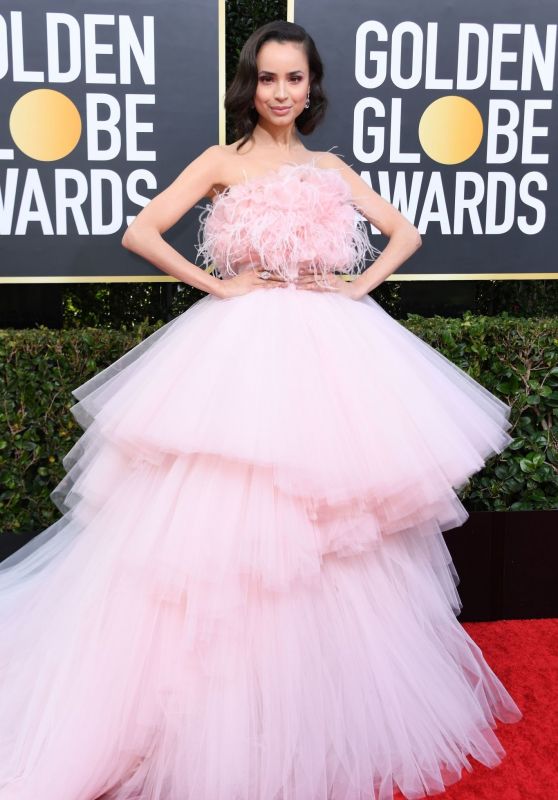 Stunning Taylor Swift usually has impeccable taste when it comes to presenting herself the best. But this time she failed. Her green Etro Couture gown presents huge busy yellow blossoms that turn the wide princess dress with the cut-out into a monstrous pile of fabric that seems to swallow the singer. 'Shake it off,' Taylor!
Kerry Washington wore an Altuzzara design in black and combined it with a chain that started at her chest, 'divided' her chest into two, and showed far more than it should. The plunge line, in this case, was far overdone, even more in combination with the sky-high slit in the skirt. I'm sorry, but in my opinion, she looks like she just came straight from work – in a brothel.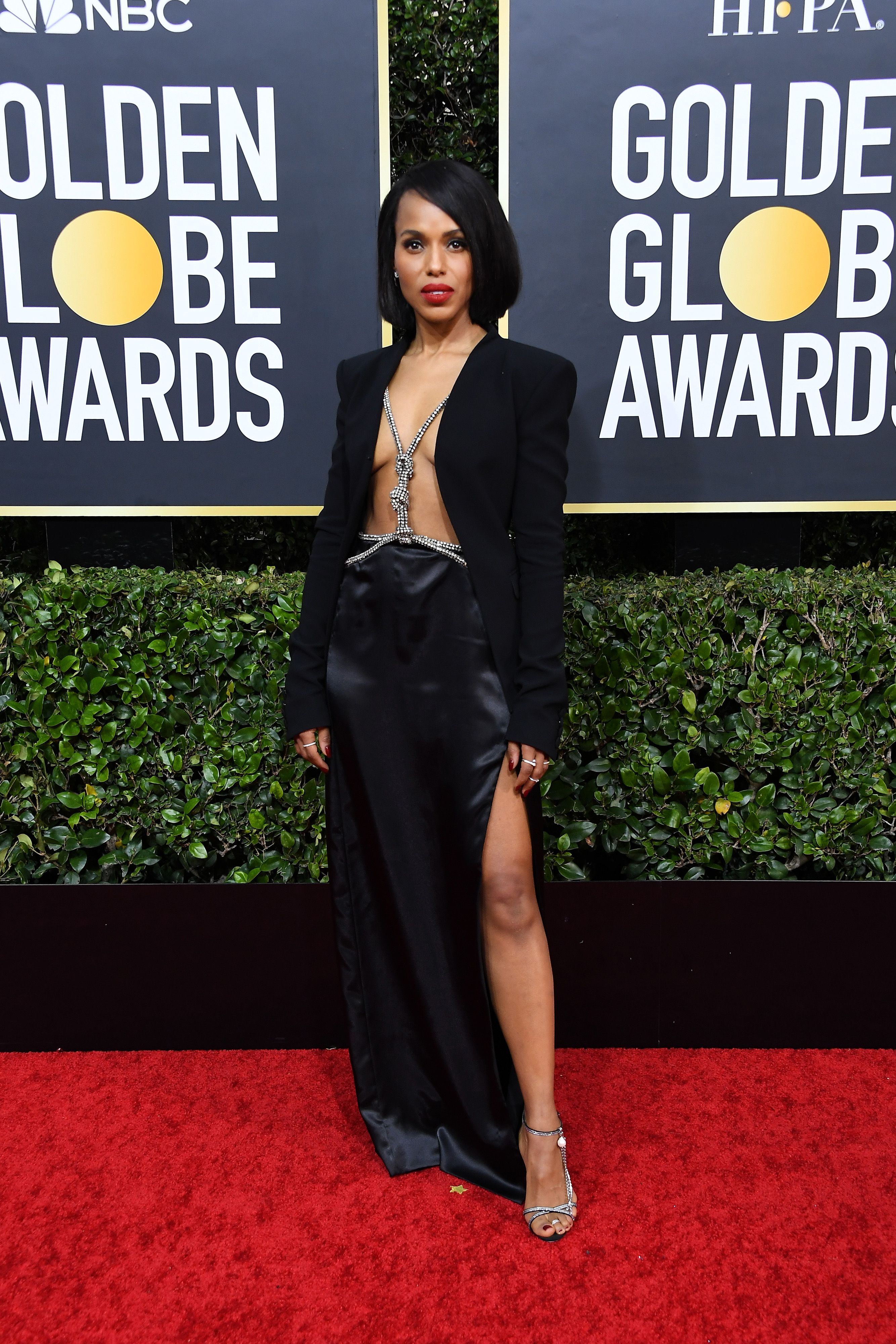 This next picture here shows one of the two outfits that I could not find any positive reviews for. 'Leftover Christmas present' and 'disastrous look' were the nicest. One look, and I could barely hold back a burst of irresistible laughter. While the monstrous gold and green bow in the front helped to wrap the torso of the singer in a bizarre way, the bottom white skirt part looked like a bed-sheet after a college party.  Oh – NO, J-Lo!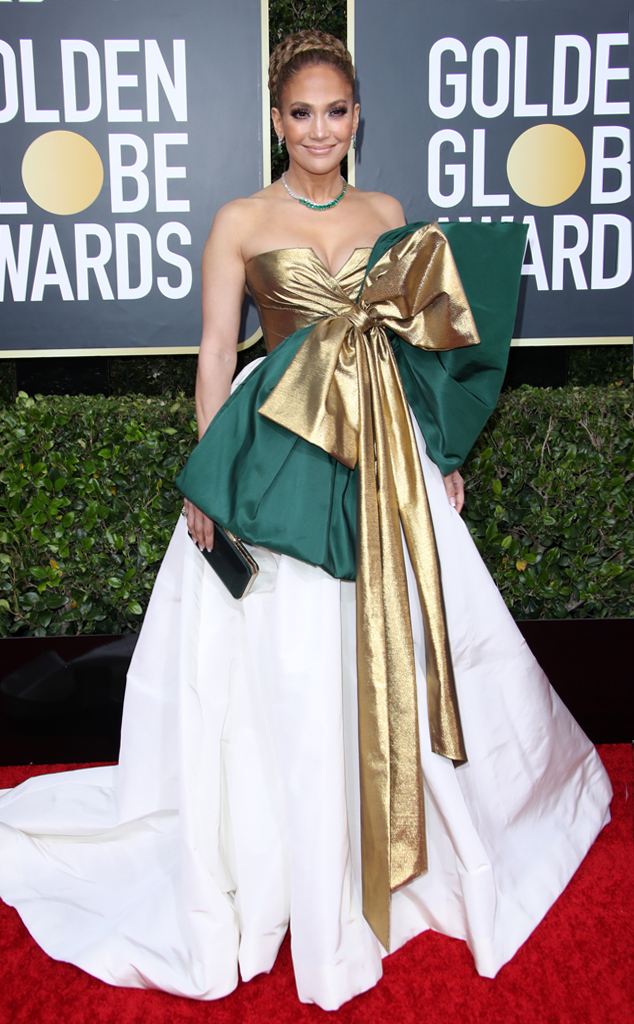 And here it is: on my list, it's the number one worst dress of the evening. Welcome, Gwyneth Paltrow. When I looked at her, I literally shook my head, rubbed my eyes, and looked again. I couldn't believe that's for real. She wears nothing underneath a practically sheer brown laced and ruffled tulle-dress (not counting two different necklaces which looks like a child had dressed her). Why didn't she just show up naked? It would have saved her getting into that sheer dumb fabric. If one could oversee her being naked underneath, which is practically impossible, but IF one could ignore it, in that rag, she looks like an 1870 workbasket.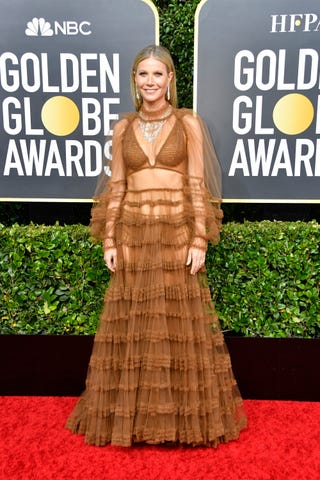 I hope very much you had fun with these pictures and a recap of the Golden Globes 2020 red-carpet with my personal comments. If you have something to add, please do so in the comments below. I'm curious about your opinion.