---
.
When I discovered this quote, I was laughing out loudly. Of course, the name 'Dorothy Parker' was anchored somewhere in the back of my head. I remember I got different information about her. Some say she's been known more for her impertinence than her writing. Others admire her for her wit, guts, strength and personality, and sense of style, writing, and adventure. I belong to the second group.
As a quick side note, The Elements of Style is a book written by William Strunk jr. and E. B. White and is described as THE classic style manual. I read the book several times and still consult it occasionally. I love the tone it's written in, and it has helped me many times. I'm convinced it had helped many other writers too.
(Can be ordered @Amazon)
---
There are many recommendations for new writers.
No matter how hard it will be, never give up
Start writing; a book doesn't write itself.
If you don't start, you won't get it done
The writing itself is only a tiny part of what being a writer means
Of course, there are so many more examples, but those are the ones I heard most, with minor variations, of course.
Encouraging new writers is a good thing. Being honest about the writing is another one. Writing in Dorothy Parker's time was quite different from now, with our possibility of self-publishing. One can say it's far easier today to see your own story published. In many ways, that's true. But also, the entire process of self-publishing is often very much underestimated!
Writing
Editing
Formatting
Copyright
Book Cover
Release
Trailer
Marketing
Every single step of the way is a process in itself. Self-publishing does not mean you can sit down, write whatever you feel like, set it online, and become famous and wealthy. Don't forget. There are millions of writers with the same idea – and enormous talent!
Self-publishing means you will have to deliver a nothing-less-than-impeccable final product! And part of that 'writing process' is quite costly. A self-drawn cover and Momma's retired English Teacher's editing won't be sufficient. Formatting, copyright, cover, editing, trailer, marketing, it all needs funds. Throwing your book out there and expecting the money flowing into the bank account by the thousands is a utopia.
Even nowadays, self-published authors are still the step-children of the craft. The traditionally published authors with the agents are the 'real' authors. An author needs a thick skin and guts to deliver name and work out there.
Self-doubt and thoughts of giving up are a daily strain. Depression is widespread among writers, and only other writers can often understand what we are going through. Networking and supporting each other are essential and cannot start early enough in the process.
We want to read our fellow author's work. We want to give them the famous pat on the back and want to tell them: "Well done!" We want to help and encourage, and many of us are fellow writers and lifelong friends! But we also need to face reality. We need to believe in ourselves. But also need to accept if the one or other story doesn't work, isn't as intriguing as we thought, or could be better if we'd take advice and the one or other suggestion.
That means, of course, the four initial recommendations above are still very accurate! And I'm convinced many more writers than just little old me are going to hear those. But it also means, as sassy as Dorothy Parker's statement is, the one or other experienced writer can very much relate.
---
Dorothy Parker (née Rothschild; August 22, 1893 – June 7, 1967) was an American poet, writer, critic, and satirist based in New York; she was best known for her wit, wisecracks, and eye for 20th-century urban foibles.
From a conflicted and unhappy childhood, Parker rose to acclaim, both for her literary works published in such magazines as The New Yorker and as a founding member of the Algonquin Round Table. Following the breakup of the circle, Parker traveled to Hollywood to pursue screenwriting. Her successes there, including two Academy Award nominations, were curtailed when her involvement in left-wing politics resulted in her being placed on the Hollywood blacklist.
One of her most famous screens was the one for the 1937 film 'A Star Is Born', which she wrote in cooperation with director William A. Wellman, Robert Carson and Alan Campbell, her husband. As we all know, the film has been remade three times: in 1954 (directed by George Cukor and starring Judy Garland and James Mason), in 1976 (directed by Frank Pierson and starring Barbra Streisand and Kris Kristofferson) and in 2018 (starring Bradley Cooper, who also directed, and Lady Gaga).
Dismissive of her own talents, she deplored her reputation as a "wisecracker." Nevertheless, both her literary output and reputation for sharp wit have endured. Some of her works have been set to music; adaptations notably include the operatic song cycle Hate Songs by composer Marcus Paus.
Parker died on June 7, 1967, the age of 73 of a heart attack, presumably caused by the alcohol addiction she suffered from for over a decade.
(Source: Wikipedia)
---
However, I don't want to end this blog post on such a 'severe' and almost 'sad' note. Leave here with a big smile on your face, please! Let Dorothy Parker make you laugh before you leave:
---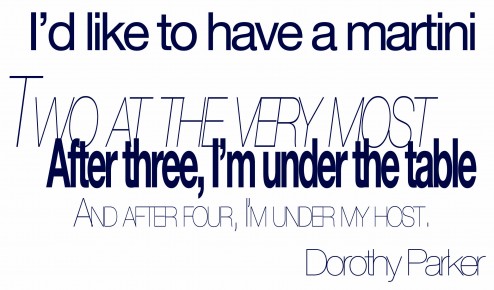 ---
---