The past few weeks, I got emails from 'MainCrest Media,' telling me that they have the greatest respect for my talent and summoning me to participate in their 'Awards Program.' They promise recognition and increase of sales. Their website is quite well designed, a professional invitation to step right into that well-created trap.
The moment I saw their submission fee of $99/per entry, reduced from $149, I got goosebumps, and I knew something didn't seem right. I started my search about their practice and found several websites and articles warning from so-called 'Award Profiteers.'
On the reedsyblog, I found a long article, warning of Author Scams and Publishing Companies to Avoid. In the middle of the page, you will find the following paragraph:
Writing Contests and Awards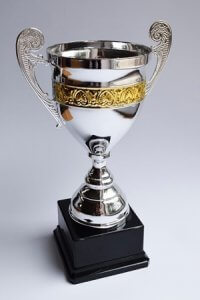 Writing contests are a great way to reach an audience, solidify your writing credentials, and even make a little money in the form of prizes. There are, however, competitions that are little more than money-spinning enterprises. And you can usually sniff them out by the fact that their prizes are not really prizes.
Some contests will publish winning entries in a magazine or an anthology — which is great. But sometimes, 'winning' authors will be obliged to pay an 'editing fee' for that privilege — which is not great.
There are also some competitions in which the prize might be a trophy. The catch here is that the author will be expected to pay for the cost of the physical prize. This isn't necessarily bad — unless you mind paying $80 for a slab of acrylic that dozens more have also 'won' that month.
In short, read the fine print. To find contests that have been vetted, you can look through this directory of the best writing competitions.
---
ALLi, the Alliance of Independent Authors, published a blog post, written by John Doppler: ALLI Watchdog, who rated and reviewed Author contests and awards on the following page: https://selfpublishingadvice.org/author-awards-contests-rated-reviewed/
According to John Doppler, the 'watchdog' criteria for contests and awards are the following:
Author Awards and Contests Rated and Reviewed: Guiding Principles
1. The event exists to recognize talent, not to enrich the organizers.
Avoid events that are driven by excessive entry fees, marketing services to entrants, or selling merchandise like stickers and certificates.
2. Receiving an award is a significant achievement.
An event that hands out awards like Halloween candy dilutes the value of those awards, rendering them meaningless. Beware of events that offer awards in dozens of categories. These are often schemes to maximize the number of winners in order to sell them stickers and other merchandise.
3. The judging process is transparent and clear.
Watch out for contests whose judging criteria and personnel are vague or undisclosed.
4. Prizes are appropriate and commensurate with the entry fees collected.
If a cash prize is offered, it should align with the size of the entry fee. "Exposure" is not an appropriate prize. Representation or publication are acceptable prizes, but only if offered by a reputable company without hidden fees.
5. Entrants are not required to forfeit key rights to their work.
Avoid contests with onerous terms, especially those which require the forfeiture of publishing rights without a termination clause. When in doubt, have an independent professional review the terms.
---
Another clear warning I found on one of my favorite blogs: Victoria Strauss' Writer Beware blog. She published her article about 'Award Profiteers' in 2015 already but re-blogged it in 2019. MainCrest Media was not specifically mentioned. But she tells us clearly where to keep our eyes open:
– Solicitation. To maximize entries, profiteering awards and contests often solicit entries. An out-of-the-blue email or an ad on Facebook urging you to enter a contest or awards program should always be treated with caution.
– High entry fees. Profiteers charge $60, $75, $100, or even more. There may be "early-bird specials" and multiple-entry discounts to tempt authors with the illusion of a bargain. And that's not counting the books you'll have to send for award consideration–a considerable expense if the profiteer only accepts print.
– Dozens of scores of entry categories.To maximize income, profiteers create as many entry categories as possible and encourage multiple entries.
– Anonymous judging. Profiteers promise expert judging by people with standing in the writing and publishing field but don't reveal the identities of these purported experts. In fact, the judging may be done by the profiteer's staff, who may simply pick winners out of a hat. One of the things that lend credibility to a contest or award is the prestige of its judges…which is why you always want to know who they are and should always be suspicious if that information is not provided.
– Non-prize prizes. To avoid cutting into their profits, profiteers offer prizes that cost them little or nothing: press releases, media announcements, database and website listings, features on satellite websites, or in self-owned publications. Some offer little more than the supposed honor of winning the award.
– Opportunities to spend more money. Profiteers' profits don't just come from entry fees. They also hawk stickers, certificates, critiques, and more.
You will find her entire blog post here: AWARDS PROFITEERS: HOW WRITERS CAN RECOGNIZE THEM AND WHY THEY SHOULD AVOID THEM
---
I think, these are fair warnings and clearly tell us where to keep our eyes open.
Happy Writing!